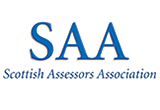 Scottish Borders
The Valuation Roll
The Valuation Roll is a list of all non- domestic properties. The Assessor for Scottish Borders is responsible for the compilation and maintenance of the Valuation Roll for the Scottish Borders.
As well as the property address, the Valuation Roll also shows the Proprietor, Tenant and Occupier of the property and the Net Annual Value/Rateable Value applied.
Every five years a revaluation of all non-domestic property is carried out. The 2010 Revaluation came into force on 1 April 2010 and the valuation date used is 1 April 2008.
Further information on the Valuation Roll can be found within the SAA home page, a link to which is located at the top of this page.
Copies of the Valuation Roll can be inspected in our offices at:
Scottish Borders Assessor & Electoral Registration Officer
Old School Building
Council Headquarters
Newtown St Boswells
MELROSE
TD6 0SA
Further Information
The Scottish Assessors Association (SAA) has prepared Practice Notes outlining the valuation schemes used for specific types of subjects in the 2010 Revaluation:
Practice Notes 2010
(Opens in a new window)