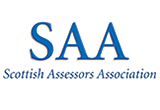 Scottish Assessors
The SAA Portal provides all Scotland Valuation Rolls & Council Tax Lists on-line. The following pages provide information for individual or small groups of properties.

Notice Board
System upgrades
Due to necessary system upgrades, the Scottish Assessors Portal will be unavailable from 3.00pm to 4.00pm on Tuesday, 15th November and 3.00pm to 4.00pm on Wednesday, 16th November. We apologise for any inconvenience this may cause.
Valuation Roll search results ordering
Some recent changes have been introduced to the SAA Portal that allows for the reordering of Valuation Roll search results by description, rateable value, reference number or address. Users can now click the relevant column heading and the search results will be reordered in either alphabetical or numerical order. This will allow easier comparison between properties.
Search Valuation Roll by Description
All fourteen Assessors across Scotland have linked their detailed property descriptions to one of approximately 200 core descriptions. Core descriptions provide a standardised and consistent way of searching for similar properties across Scotland. To search by core description, simply click the input box that is available as part of the existing advanced search facility for rateable values. A dropdown menu will appear listing all the core descriptions. Alternatively, you can simply type in the core description you are looking for and predictive text functionality will help you narrow down your search.
Rating Revaluation
The Scottish Government has announced that the non-domestic rates Revaluation scheduled for 2015 has been postponed until 2017.


For information about your area, select a region from the map or identify your Assessor from the local council area list below. Click to be taken to the home page for that region
Scottish Assessors