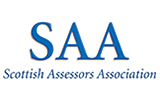 Scottish Assessors
The SAA Portal provides all Scotland Valuation Rolls & Council Tax Lists on-line. The following pages provide information for individual or small groups of properties.

Notice Board
Valuation Appeal Committee Hearing Dates
Details of Valuation Appeal Committee hearing dates and lists of cases cited for hearing are published by most Assessors. Where available, details for each valuation area can be obtained from here.
Rating Revaluation
The Scottish Government has announced that the non-domestic rates Revaluation scheduled for 2015 has been postponed until 2017.
Make sure of your vote
Revised Registers of Electors were published on 1 December and are now available for inspection at Electoral Registration offices. They may also be inspected at some council offices and local libraries - contact you local Electoral Registration Officer for details. If you are entitled to be registered, you should check that your name has been included. The register is updated on a monthly basis and you can apply to have your name added by completing and returning a voter registration form to the Electoral Registration Officer.
Online Forms Extended
Each year Assessors usually issue a Return of Information Form (it may be referred to as a "Schedule", "Annual Return" etc) to allow owners and tenants etc to update narrative information held in the Valuation Roll, give details of changes to properties and provide basic rental information. Each Assessor will issue forms on the basis of a local timetable and recognising local resources. It is now possible to make your return by using the Online Forms menu on this website. The Return of Information Form option is included on that menu. When your Assessor issues Returns why not respond on-line?


For information about your area, select a region from the map or identify your Assessor from the local council area list below. Click to be taken to the home page for that region
Scottish Assessors