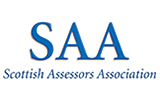 Scottish Assessors
The SAA Portal provides all Scotland Valuation Rolls & Council Tax Lists on-line. The following pages provide information for individual or small groups of properties.

Notice Board
Rating Revaluation
The Scottish Government has announced that the non-domestic rates Revaluation scheduled for 2015 has been postponed until 2017.
Make sure of your vote
Revised Registers of Electors were published on 1 December and are now available for inspection at Electoral Registration offices. They may also be inspected at some council offices and local libraries - contact you local Electoral Registration Officer for details. If you are entitled to be registered, you should check that your name has been included. The register is updated on a monthly basis and you can apply to have your name added by completing and returning a voter registration form to the Electoral Registration Officer.


For information about your area, select a region from the map or identify your Assessor from the local council area list below. Click to be taken to the home page for that region
Scottish Assessors