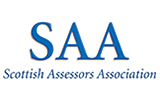 Scottish Assessors
Online Forms
By using the menu links in the "Online Forms" menu on the left you can choose to lodge a Non Domestic (Rates) Valuation Appeal, a Council Tax Proposal Form, an on-line version of a Rental Return Form or complete a Return of Information Form (Valuation Schedule/Annual Return)
Non Domestic Appeals
If you wish to lodge an appeal against the rateable value of your property there are time limits and rules to follow which you can read about by using the Non Domestic Appeal Link.
Council Tax Banding Proposals
If you do not agree with the Band allocated to your house you can lodge a proposal provided certain criteria are met. You can find out more by using the Council Tax Proposal Link.
Rent Form
When the Assessor is made aware that a new lease or revised rent has been agreed between the owner (landlord) and the occupier (tenant) he may issue a Rental Information Form. This deals specifically with the arrangement between the parties to the lease and seeks information about the term (length) of the lease and conditions (who is responsible for repairs, insurance etc) as well as the amount of the annual rent paid.
If you have received a Return of Rental Information Form you can use this service to make a return on-line. You can also use this service to send an electronic copy of the lease or missives etc to the Assessor. To read more click on the Rent Form Link.
Return of Information Form
The Assessor's duty is to maintain the information in the Valuation Roll in as up to date a manner as is possible. In order to do this he will send out, in most years, a Return of Information Form. This details the information currently shown in the Valuation Roll and seeks to obtain information on any changes, such as the names of new owners, tenants and occupiers. It also invites information about physical changes to the property or the amount of any rent paid. This is not so extensive an enquiry as in the Rental Information Form and indeed may prompt the Assessor to issue a full Rent Form dealing specifically with the arrangements agreed between the parties to the lease.
If you have received a Return of Information Form you can use this service to make a return on-line to:
1) Specify any changes relating to:
a) the proprietor (owner), tenant or occupier,
b) physical or other changes to the property,
c) the rent of the property.(This may result in the Assessor issuing a separate Rental Information Form.)
Or
2) Confirm that there is "No Change" to the information.
To read more, click on the Return of Information Link in the menu opposite.